Resources
Minolta 50mm 1:1.7
This Minolta Maxxum AF 50mm f/1.7 is the world's first autofocus SLR.
Nikkor 50mm f/1.8D
Affordable, fast f/1.8 prime lens with manual aperture control.
Fujinon XF14mm F2.8 R
Designed to capture images rich in perspective, this ultra wide-angle lens with its extreme angle of view is the ideal choice.
Canon AE-1 35mm
One of the most popular cameras with which many have learned the basics of photography.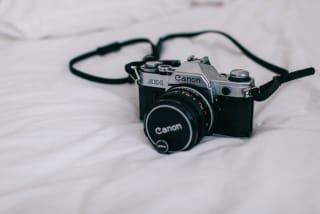 Leica 50mm / f2.5
Powerful, lightweight and designed to be easily operated.
Nikon AF-S FX NIKKOR 24-70mm
Standard zoom NIKKOR lens with constant f/2.8 aperture